Growing Sunflowers & Other Bird Seed Crops
While there are many companies who sell bird food and garden wildlife products, very few of them specialise in growing and harvesting their own bird seed. Here at Really Wild Bird Food, we manage and oversee every aspect of our bird food production method, from sowing the seeds right through to the final cleaning and mixing process. We have specialised in growing bird seed crops for over 20 years now – ample time to perfect and develop our products so that they meet the highest possible standard.


While we produce a broad selection of seeds and cereals here at Street End Farm, our stand-out crop has to be our magnificent sunflowers. A stunning sight when fully grown, this crop often attracts lots of attention from both locals and visitors – including Alan Titchmarsh, who has filmed TV footage amongst the sunflowers on our farm. They are also very popular with local birds and bees, who are often the first to sample the quality of our crop.

Growing sunflowers can be a tricky business, but here at Street End Farm, we think we've got it down to fine art! The drilling procedure usually begins between April and May, producing a healthy, flowering crop around the first week of August. Once the heads have dried out with the coming of autumn, we carefully harvest our sunflower heads, cultivating stalk material back into the ground so that nothing is wasted.
How we Do It
Planting, growing and harvesting our bird seed crops takes a lot of hard work, but our routine produces high-quality products that our customers and birds love! Here's a closer look at the steps that go into producing our bird seed:
Cultivating the Land
Preparing a well-cultivated, free draining seed bed is highly important, particularly when growing bid seed crops, which have a short growing season, and therefore need to establish roots and a comfortable bed early on.

With farm vehicles getting heavier, a lot of effort has to go into preparing a fine level seed bed, which means that Richard will begin with a deep-tine subsoiler, before working the ground with a variety of cultivators, depending which seed is being planted. Our sunflowers, for example, require a deep seed bed due to their size, while fine seeds require a much shallower bed.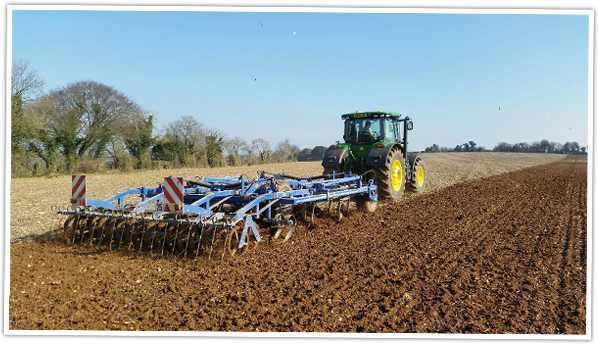 Drilling the Crops
Most of our crops are drilled in spring, as the weather and soil temperatures start to rise. Wheat and oil seed rape are the first to be planted in autumn, while the rest of the seeds are drilled between March and May, with the sunflowers going in last. The seeds need to be evenly spaced, and the soil has to be moist, in order to allow the seeds to germinate. We also use the most time and cost-efficient drilling methods during this process, in order to reduce fuel usage and the cost of production.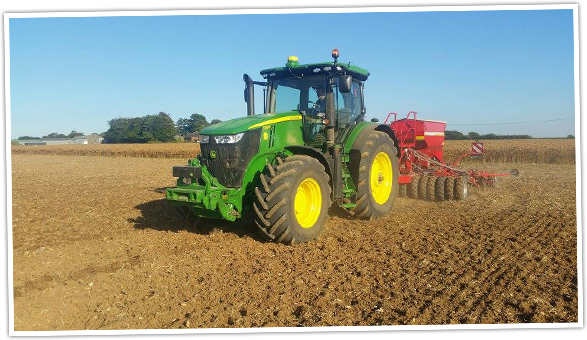 Monitoring Growth
In order to produce great quality crops, we have to make sure that our soil is up to scratch! To do this, we use soil indices to check the levels of phosphate, potash and magnesium present. Due to UK air now being much cleaner, we also have to add sulphur to our crops on a routine basis, as it is no longer deposited in raindrops.

Richard and his Agronomist, Steve Cook, will also walk the entire farm checking for signs of pests and disease, allowing us to spot any signs of disruption early on. Every crop has its own set of challenges, but everything loves to eat sunflowers, which means that we have to be extra vigilant for slugs and other pests during the early stages.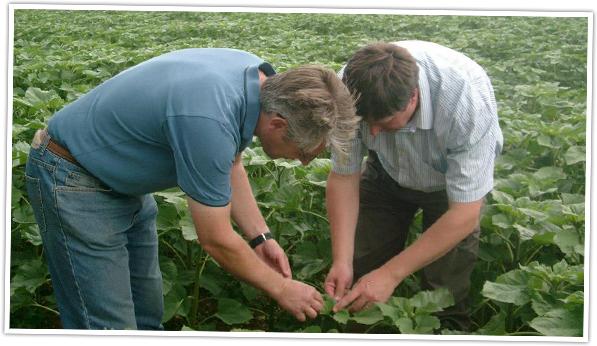 Harvesting
Oil seed rape is the first to be harvested, followed by wheat, naked oats and canary seed. After this there is a break in combining, as we prepare the ground for winter crops. Red millet, white millet and sunflowers are then harvested from late September to early October, depending on the autumnal weather. In order to produce combined seeds which are dry, undamaged and in good condition, we use our Claas Lexion combine, which we affectionately refer to as 'Lexi'.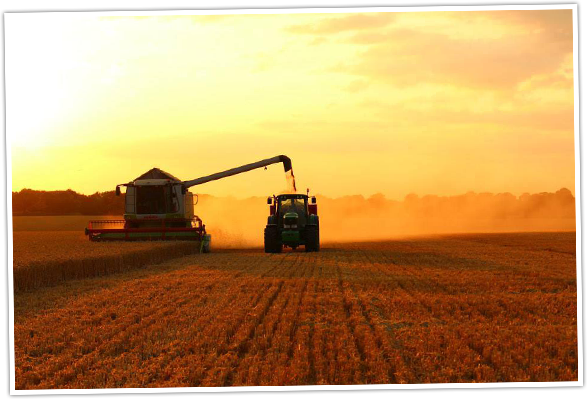 Drying & Cleaning
The moisture content of the seeds will depend on the weather, which means that all seeds have to be dried down in preparation for storage. We do this by placing them on a drive-over drying floor, and passing warm air up through the grains to remove excess moisture. During this process, we will regularly check moisture levels and grain health, in order to maintain crop quality once they have left the ground.

Once this is done, we will then move onto pre-cleaning the seeds to remove dirt and debris. This is all performed on our farm, so we can be sure that we have complete control over the final product.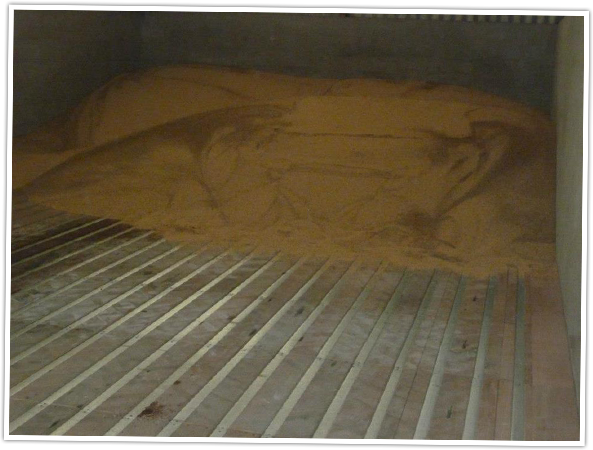 Mixing & Bagging
During the mixing process, we turn our bird seed into high-quality mixes, which are thoughtfully and skilfully put together by Richard. Each product is created to meet almost any feeding requirement, and is nutritionally balanced to deliver the greatest range of benefits for your birds.

Once this is completed, we can then bag up our bird seeds to preserve their freshness. Thanks to our ability to match supply and demand, you can be sure that each product has been freshly mixed and bagged according to your order, so you'll never receive a product that's been sitting around for weeks.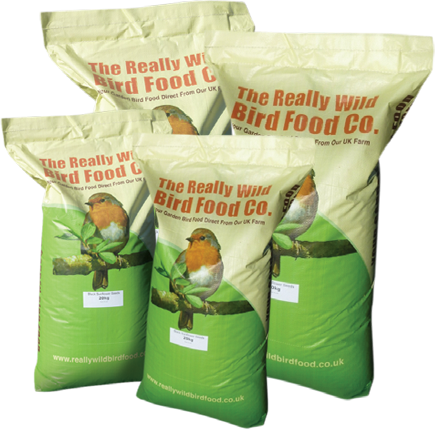 Dispatching Your Seed
Once all our hard work is done, and each product meets our extremely high standards, we then hand things over to our courier. Pick-ups are arranged every day Monday to Friday, to allow Next Working Day Delivery, and will only take longer in areas that are harder to reach, such as the Scottish Highlands.

Once you have your product, it's then over to the garden birds, who can judge the quality of our seeds for themselves! We're often receiving great feedback from customers, who have noticed a massive difference in the number of feeding birds since using our products.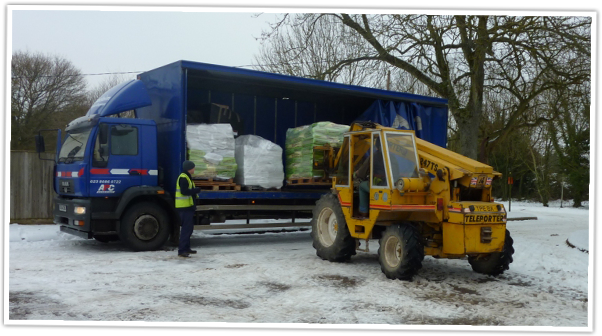 Doing Our Bit for the Environment
When it comes to growing bird seed, we take great care to ensure that we minimise our impact on the environment, producing feeds in the most sustainable and wildlife-friendly way possible. We achieve this by:
Minimising Transport Mileage –

We grow as many of our bird seed ingredients on our farm as possible, and do our best to source the ones we can't grow from local farming neighbours. While some feeds have to be sourced from overseas, we do everything we can to keep our carbon footprint low, by using local resources wherever possible.

Encouraging Wildlife –

Our farm is home to a number of native birds and wildlife, including the incredibly endangered lapwing!

The nature of the farm, the crops we grow, and the environmentally sensitive way we farm all contribute to supporting our native British Birds and Migratory visitors.
Recycling & Minimising Waste –

We aim to prevent 100% of our recyclable materials from entering landfill, and we ensure that our 8kg, 13kg and 20kg seed bags are all completely recyclable. If you are unable to recycle the packaging we send you, we offer the option to mail the packaging back to us, refunding you with purchase credit to cover the cost of postage. In addition, we are also certified members of the Webbpaton XS Farm Cardboard and Waste Plastic Recycling Scheme.
Click here to see our full selection of wild bird seeds >